To update several storage positions, we can use the batch update option from the Object Browser:
Go to the Object Browser under Utilities in the main menu
Select the object type Storage Position from the dropdown menu (see picture)
Use the table Filter to select the storage positions you want to update (see Tables)
Export the table (see Tables)
Edit the file to make the changes needed (e.g. change the name of a box, change the storage, change a box position, change box size etc)
Select XLS Batch Update Objects from the More.. dropdown.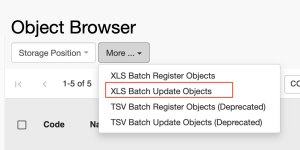 7. Import the file you modified before and update the storage positions.